Termites do over $5 billion in damage to homes every year in the US.
We offer termite inspections as well as complete termite prevention and termite treatment services.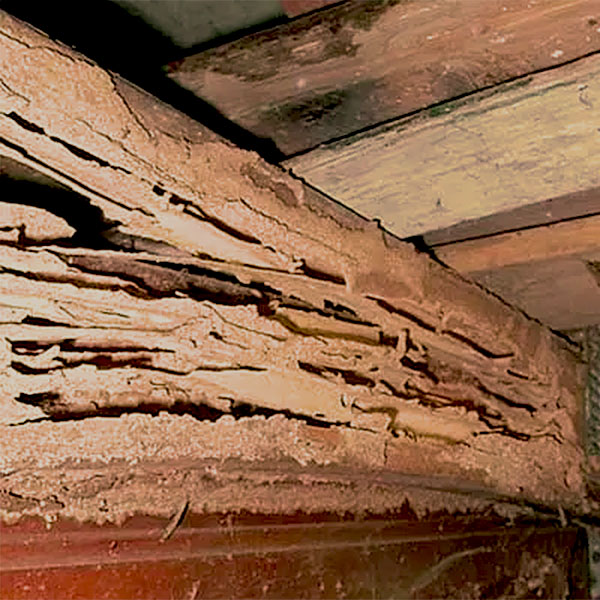 Initially, termite presence may be difficult to see, but the experts at Chem-Tech Termite & Pest Control know what to look for and how to treat it.
Termite Treatment Estimates — No Charge
If you feel you have a termite problem or just want to prevent them, we will be glad to come out and give an estimate to treat your home or structure. There are too many variables in construction and termite treatments to give you a price without an onsite visit. Don't worry we do not have any commission salespeople, the person coming to give an estimate will be a certified termite expert.
Peace of Mind Termite Inspection — $60.00
If you are worried about termites, or concerned you may have a problem we will do a thorough inspection for infestation and evaluate risk. If you end up having Chem-Tech treat your home the fee will be waived. We know that some companies do this for free, but keep in mind they are often sending out a high-pressure salesperson that has likely never done a termite treatment. Instead we will give you an honest assessment of your structure.
Real Estate Sales and Refinance Termite Inspection — $80.00
Includes WDI Report 
(Single Family Homes Only, Additional Buildings and Multi-Family Homes Are Extra)
When purchasing a home it is often required and highly recommended to have a Wood Destroying Insect Inspection done. When we inspect your home the report will be on the required NPMA-33 form required by FHA/VA. You will receive the report that day, no waiting!
Termite Treatments — Price Varies
Chem-Tech recommends soil treatments for your home that will eliminate the termite colony. We recommend treating the entire exterior. We evaluate the interior and recommend treatment for infested areas or high risk areas such as crawlspaces. Our termite treatments come with a one (1) year warranty and are renewable for 14 additional years.
We warranty the entire structure, not just treated areas against future infestation. This is important as many companies do not offer this. If you choose us to protect your home, we feel it is our job to protect all of it.
Chem-Tech
Termite & Pest Control
1119 Osage St
Leavenworth, KS 66048
Hours
Mon – Thu     8:00a – 5:00p
Friday             8:00a – 3:00p
Sat – Sun        Closed
Opens in New Window or Tab